January 2017
Date
Venue
City
Time
1/13
Sky Music Lounge
Ballwin, MO
9:00 PM
1/21
Sky Music Lounge
Ballwin, MO
6:00 PM
April 2017
Date
Venue
City
Time
4/8
Eureka Wine House
Eureka, MO
7:00 PM
May 2017
Date
Venue
City
Time
5/26
Sky Music Lounge
Ballwin, MO
9:00 PM
June 2017
Date
Venue
City
Time
6/24
Private Event
Fenton, MO
8:00 PM
July 2017
Date
Venue
City
Time
7/8
United Way 5K/10K
Fenton, MO
7:00 AM
7/22
Sky Music Lounge
Ballwin, MO
9:00 PM
August 2017
Date
Venue
City
Time
8/9
Dragpipe Saloon
Sturgis, SD
4:00 PM
8/10
Dragpipe Saloon
Sturgis, SD
2:00 PM
September 2017
Date
Venue
City
Time
9/30
Private Event
Des Peres, MO
7:00 PM
October 2017
Date
Venue
City
Time
10/28
Sky Music Lounge
Ballwin, MO
6:00 PM
The Next

Tailgate
Who: The Tailgators
When: Wednesday, August 9 - 4 P.M.
Thursday, August 10 - 2 P.M.
Where: Dragpipe Saloon
13018 SD-79
Sturgis, SD 57788
The Gators take the party rock on the road to the 77th Sturgis Motorcycle Rally. Stop by the Dragpipe Saloon mid-week for a beer drinkin', booty shakin', hell raisin' good time!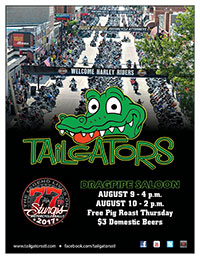 Book The Tailgators
The Tailgators are ready to rock your next "tailgate." Call or email us to book the band today!
Jeff: 314-609-8604
Aaron: 314-807-3503
booking@tailgatorsstl.com