January 2017
Date
Venue
City
Time
1/13
Sky Music Lounge
Ballwin, MO
9:00 PM
1/21
Sky Music Lounge
Ballwin, MO
6:00 PM
April 2017
Date
Venue
City
Time
4/8
Eureka Wine House
Eureka, MO
7:00 PM
May 2017
Date
Venue
City
Time
5/26
Sky Music Lounge
Ballwin, MO
9:00 PM
July 2017
Date
Venue
City
Time
7/8
United Way 5K/10K
Fenton, MO
7:00 AM
August 2017
Date
Venue
City
Time
8/7
Dragpipe Saloon
Sturgis, SD
TBD
8/8
Dragpipe Saloon
Sturgis, SD
TBD
The Next

Tailgate
Who: The Tailgators
When: Saturday, April 8 - 7 P.M.
Where: Eureka Wine House
107 S Central Ave.
Eureka, MO 63025
The Gators rock the house on their home turf to celebrate the 50th birthday of one our most enthusiastic fans. Join us for the party!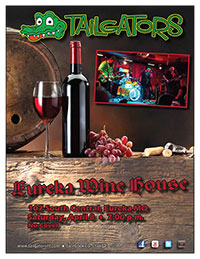 Book The Tailgators
The Tailgators are ready to rock your next "tailgate." Call or email us to book the band today!
Jeff: 314-609-8604
Aaron: 314-807-3503
booking@tailgatorsstl.com